The websites featured on this page are for informational reference only. Merit Kitchens does not represent or have claim to any specific affiliation to the posted resources below, unless otherwise indicated.
Please feel free to link to our site! If you have a related website or blog that you feel would be useful to our website visitors, please submit it for consideration. Please ensure to read our link partner information prior to submitting.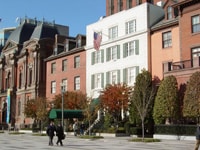 The Blair House, the official state guest house for the President of the United States. Photo taken November 21, 2006 by Ben Schumin.
Merit Kitchens cabinetry transformed the Butler's Pantry from a purely utilitarian space to a marriage of form, function and elegance. The small footprint remarkably incorporates 2 large warming drawers, a beverage centre, a trash and recycling centre, sink, and plenty of storage for glasswear and china. www.blairhouse.org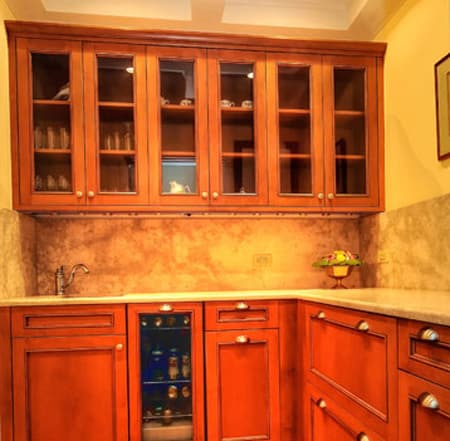 Link Exchange Partner Information
Becoming a link exchange partner with Merit Kitchens is simple & easy. Just follow the 3 steps below:
Add approved Merit Kitchens link content to your website (from the code options below).
Email confirmation with the url where our website link can be found online (*REQUIRED) along with your website's description or code, to: email@merit-kitchens.com
If your website meets with our quality assurance & content guidelines, you will receive a reciprocal link from the Merit Kitchens website, and a confirmation that your website link has been posted for you to view it. The reciprocal link must remain on your site to maintain your link on our site.
Please feel free to link to our web site; however we kindly request that you do so using any one of the following code options:
<p><a href="https://www.merit-kitchens.com/cabinet-manufacturer/?utm_source=meritkitchensreciprocallinks&utm_medium=relatedwebsite&utm_term=cabinet%2Bmanufacturer&utm_campaign=meritkitchensreciprocallinks" target="_blank">Cabinet Manufacturer</a> – Contact Merit Kitchens cabinet manufacturer for beautifully designed and professionally constructed cabinets for kitchens & bathrooms. 1.855.591.3321.</p>
or
<p><a href="https://www.merit-kitchens.com/kitchen-cabinetry/?utm_source=meritkitchensreciprocallinks&utm_medium=relatedwebsite&utm_term=kitchen%2Bcabinetry&utm_campaign=meritkitchensreciprocallinks" target="_blank">Kitchen Cabinetry</a> – Merit Kitchens manufacturers quality kitchen cabinetry that creates a beautiful and functional work area your family and guests will enjoy. 1.855.591.3321.</p>
or
<p><a href="https://www.merit-kitchens.com/kitchen-cabinet-manufacturer/?utm_source=meritkitchensreciprocallinks&utm_medium=relatedwebsite&utm_term=kitchen%2Bcabinet%2Bmanufacturer&utm_campaign=meritkitchensreciprocallinks" target="_blank">Kitchen Cabinet Manufacturer</a> – Merit Kitchens is a leading kitchen cabinet manufacturer that produces high-end cabinets for customers throughout North America and Asia. 1.855.591.3321.</p>
or
<p><a href="https://www.merit-kitchens.com/kitchen-designs/?utm_source=meritkitchensreciprocallinks&utm_medium=relatedwebsite&utm_term=kitchen%2Bdesigns&utm_campaign=meritkitchensreciprocallinks" target="_blank">Kitchen Designs</a> – Merit Kitchens manufactures the most important part to your family's kitchen designs: stylish kitchen cabinets built to last a lifetime. 1.855.591.3321.</p>
or
<p><a href="https://www.merit-kitchens.com/kitchen-renovations/?utm_source=meritkitchensreciprocallinks&utm_medium=relatedwebsite&utm_term=kitchen%2Brenovations&utm_campaign=meritkitchensreciprocallinks" target="_blank">Kitchen Renovations</a> – Merit Kitchens has the ideal cabinet solutions for your family's kitchen renovations and redesign. Visit our site to learn more or call 1.855.591.3321.</p>
or
<p><a href="https://www.merit-kitchens.com/bathroom-cabinetry/?utm_source=meritkitchensreciprocallinks&utm_medium=relatedwebsite&utm_term=bathroom%2Bcabinetry&utm_campaign=meritkitchensreciprocallinks" target="_blank">Bathroom Cabinetry</a> – Trust Merit Kitchens' over 40 years of experience to create beautiful solidly built bathroom cabinetry perfect for your home 1.855.591.3321.</p>
or
<p><a href="https://www.merit-kitchens.com/custom-bathroom-cabinetry/?utm_source=meritkitchensreciprocallinks&utm_medium=relatedwebsite&utm_term=custom%2Bbathroom%2Bcabinetry&utm_campaign=meritkitchensreciprocallinks" target="_blank">Custom Bathroom Cabinetry</a> – Merit Kitchens brings your custom bathroom cabinetry designs to life, exactly as you envision them. 1.855.591.3321.</p>
or
<p><a href="https://www.merit-kitchens.com/bathroom-vanities/?utm_source=meritkitchensreciprocallinks&utm_medium=relatedwebsite&utm_term=bathroom%2Bvanities&utm_campaign=meritkitchensreciprocallinks" target="_blank">Bathroom Vanities</a> – Merit Kitchens manufactures stylish bathroom vanities that are the perfect design and organization addition to your bathroom. 1.855.591.3321.</p>