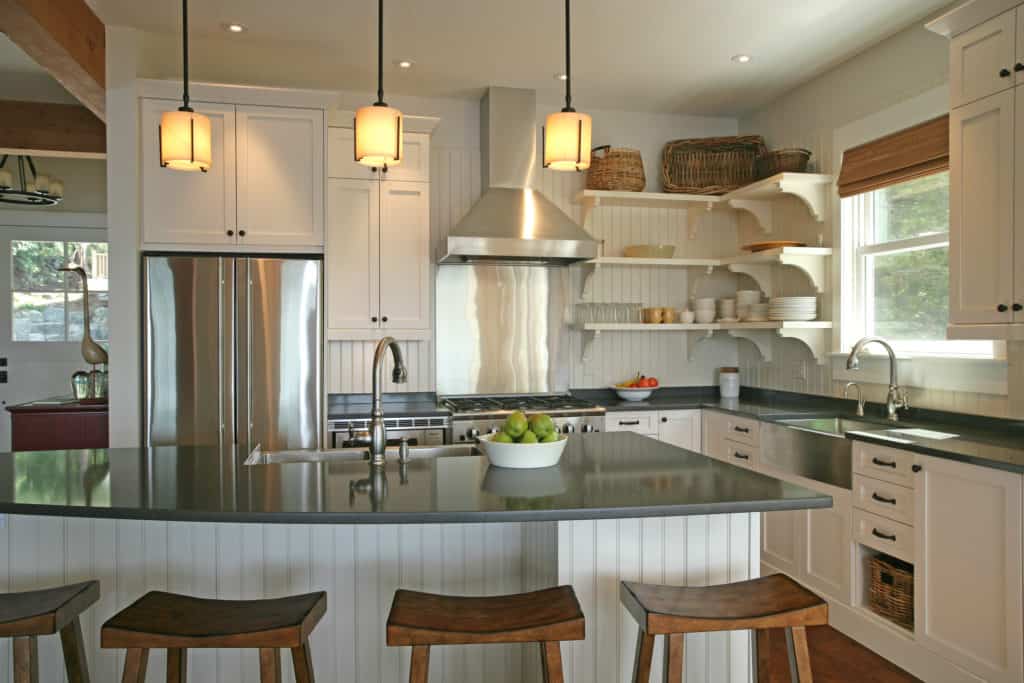 Dear Ask an Expert,
I am trying to update my kitchen but am having a hard time deciding on colors.
I have an almost white tile floor with hints of light grey and tan in them. The laminate counter tops are dark charcoal grey with white marbling. The appliances are all white. The kitchen is spacious and bright. The cabinets are outdated golden oak in a traditional style with silver hardware.
I hate the cabinets! I am thinking of staining them a darker, less orangy colour OR painting them white OR painting them grey. I am unsure how the various choices will work together.
If I had lighter counters, I would definitely choose grey or a darker stain, since I think that would create contrast with the floors. But because the counters and floors are opposites, I don't know whether to match the cabinets to the floors or counters.
Help!
Rachel
—
Hi Rachel,
Thanks so much for your question.  That does sound like a challenge!  Golden Oak kitchens were once the rage, but you're not unlike many homeowners now in wanting to give them the heave ho.
It sounds like you have a great foundation to work with – whites and greys.  Re-staining cabinets can be a big undertaking because they have to be stripped down, stained, and top coated.  Painting may prove to be a simpler option.  Keep in mind that Oak does have open grain, so you will see that once that cabinetry is painted; the cabinets won't be silky smooth.
What about choosing a white paint that complements your floor, or a pale grey which is very popular in cabinetry these days?  You can never go wrong with these two neutrals because they lend a fresh, airy look to your space.  Either option will look lovely and inviting.
The best of luck for your kitchen updating!